STARTERS
*Price expressed with ½ for half portions
Chicken Tenders
Crispy and juicy breaded chicken tenders, served with french fries, bourbon barbecue sauce and our exquisite honey mustard.
Patatas Rancheras
French fries immersed in melted cheddar, topped with crispy bacon and served with our exotic ranch sauce.
Nachos Texmex
Mexican nachos covered with exquisite chili meat and our incredible cheddar cheese fondue. Served with our home-made guacamole, sour cream and topped with tomato hash.
Patacones
Fried green plantain discs covered with latin cheese, our delicious grandma shredded beef and home-made guacamole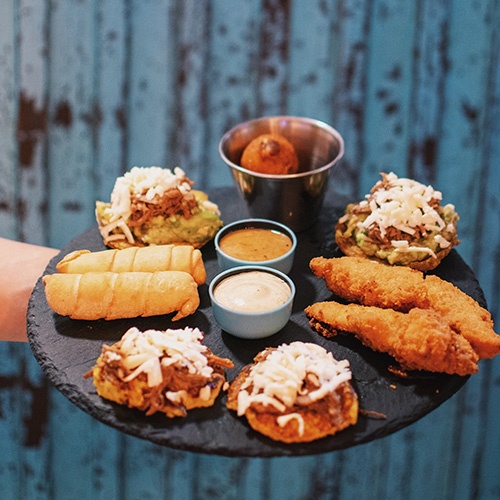 Tabla Criolla
Combination of Venezuelan starters: tequeños, cachapitas, patacones and chicken tenders. Served with 3 home-made sauces. Perfect to share between 3 people.